There are many ways in which you can help us, you could volunteer your time and expertise, you could make a donation via our GoFundMe page, or if you are a business and would like to make a larger donation which could form part of your Corporate Social Responsibility (CSR) please get in touch to find out more.
It cost around £550.00 for each individual to go through our initial program, so all donations are gratefully received and essential to enable us to continue our life changing work.
You could sponsor an individual to go through our program, or a specific project or event – here is a copy of our leaflet Support Embrace PFC CIC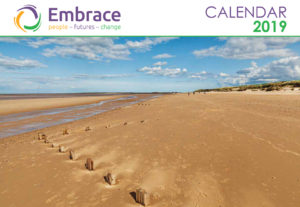 You could buy a beautiful calendar similar to this one, from our friend and supporter, the lovely Paul Macro.  All you need to do is choose Embrace PFC CIC as a donation option and we will received £2 for every calendar sold.  We always get them and they make great gifts too!